UFO Conference
| | |
| --- | --- |
| | Brian greets friends (and the camera) while a visitor combs the UFOsRevealed table. |
Christian ufologists met for three days to share their experiences at Journeys Beyond UFO confrence in Tampa, Florida. The conference was a great time of fellowship. Christian friends found themselves in constant fellowship relaxing poolside, watching UFO videos and debating different UFO perspectives over dinner.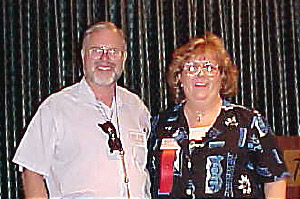 The Conference was not without ministry. The table hosted by UFOsRevealed, CE-4, Alien Resistance HQ, and Pastor Chirs Ward was the beginning of many a discussion. Guests of the conference were handed copies of the Charisma magazine issue featuring these ministries.
One event of particular notice was a lady who had received a scar on her finger from an abduction. After praying with her, the scar could not be found. It was gone!!
Colleen Johnson, a host on the web radio station NightSearch, shared her experience with a UFO cult and how she escaped. Chris Ward promoted his upcoming radio show, The Exorcist Files. It wil also be featured on NightSearch.
Special thanks to Anthony for all his help at the table. This was his first UFO conference. He was big help.
Be sure to join us at the next UFO conference. Watch this site for details.