Grand Opening
| | |
| --- | --- |
| | Guy Malone (center), Chris Ward (left), Joe Jordan (right) and Roswell Chamber of Commerce cutting the ribbon for the Alien Resistance HQ. |
Guy Malone held a grand opening of the AlienResistance HQ offering Christian ufology to the Roswell, New Mexico community. The bookstore offers Christian literature and provides an open forum between secular and Christian thought onthe topic of UFOs.

The Roswell Daily Record chronicled the event with a front page article and photo of Malone, Jordan and Ward.

This event is sure to have great impact, indeed, it already has. One Christian woman who grew up in Roswell's sister town of [[[[]]]] decided to reconcile what she has known all her life with her faith. Another woman and her daughter were delivered of their abduction and harassment experiences.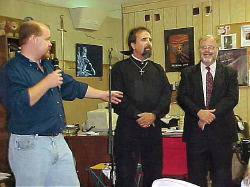 Our very own revealer, Chris Ward, attended with Joe Jordan of CE4.org. Ward shared his research on UFOs, abduction experiences, and the Nephilim. Jordan offered his experience with MUFON and the case studies that convinced him to become a Christian.
It was not all work, though. Ward and Jordan also enjoyed Roswell: The Muiscal and lunch with some interesting guests.