UFO Conference
| | |
| --- | --- |
| | Joe and Kathy Jordan and Rita Ward seen at our booth offering hope to experiencers. |
UFOsRevealed shared hope with experiencers at the Journeys Beyond UFO Conference October 20-22. Our Revealers focused on stopping alien abduction scenarios. By using the name of Jesus an abduction can be halted.

Replacing the Project Awareness conferences Journeys Beyond has proven successful with its comfortable surroundings, great speakers and informative vendors. One surprise guest speaker stole the show.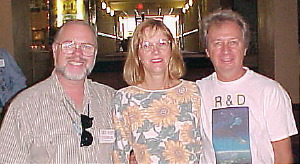 Colonel Corso's son Phillip Corso Jr. reported on the government's present knowledge, his current project to build a working alien craft and his father's findings while working as chief of the Army's Foreign Technology Division responsible for back engineering alien artifacts. Corso (right) is seen here with his wife, Liz, and Revealer Chris Ward.
"There is no government cover-up. This "conspiracy" is really just a few high ranking individuals who think they are doing the right thing," said Corso.
Corso admonished the audience not to exchange their religion for Ufology. These aliens are not benevolent, but deceptive, he argues.
Reporter Andy Butcher followed the events and interviewed extensively with Chris Ward. Butcher is writing an article for Charisma magazine about church ministries under persecution by the church.