A Millennium of Contact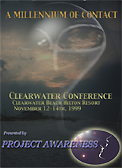 The members of UFOs Revealed met for the first time at the Project Awareness UFO conference held in Clearwater, Florida to present an open view of the Bible to attendants.
Held in the accommodating Hilton Clearwater Beach hotel, this UFO conference was a huge success. There were no hurricanes. Instead the Love of Jesus Christ was shared in an open-minded way with the truth seekers in attendance.
It was a historical event when all the members of UFOs Revealed met to discuss ways to continue outreach to the UFO community. Gathering together for a Bible study late Saturday night, a need to grow beyond the present membership became evident.
Among the topics discussed was a plan to bring UFOs Revealed to UFO conferences around the world.
"There is a man in Australia who is extremely interested in joining us right now," said the excited Chris Ward. " Just think, UFOs Revealed could be in Australia!"
While still in its rough stages, UFOs Revealed's plans are to add affiliate groups to present a Christian perspective on UFO's and aliens.
Other details included web site changes and additions. Look for a new UFOs Revealed link page and counter.
More Articles...
+Guy Malone enjoyed a two day bus ride from Roswell, New Mexico to help people see a Biblical understanding of cosmology and promote his book Come Sail Away.
+Joe Jordan arrived a five hour drive from Titusville area to represent CE-4 and pass out "No Grays Allowed" stickers.
+Chris Ward drove three hours from Leesburg with his Paranormal Outreach Team to answer questions about the Bible.